Patchwork
has given more than fifteen hundreds concerts including a certain number of notorious references:
Patchwork on TV:
"Le journal de 13h" (TF1) / "Le zapping" (Canal +) / "Les coups de coeur" (TSR1) / "Générations" (RTS) / "C'est l'été" (T.M.C.) / "Ce soir on passe à la télé" (France 3) / "Je passe à la télé" (France 3)

Events and private gigs:
"SwissCham Beijing" (Pékin) / Soirée privée pour Phil Collins / Le Tour de France / Ouverture des "Jeux Paralympiques" (Bruxelles) / FIFA Summer Party 2018 Zürich / Commémorations des 50 ans des JO de Grenoble / Google / Élection miss Suisse 2009 / Suchard / Motorola / Qatar 2022 / France Télécom / Crédit Agricole / B.N.P / HSBC / Lloyds Bank / Airbus Industry / Merck-Serono / Rolex / Baume et Mercier / TAG Heuer / Vacheron Constantin / BMW / Mercedes / Bentley / CIO Lausanne 2012 / Galeries Lafayette / Labo Bayer / Congrès des maires de France, Paris / Agence Reuters ...
Festivals:
"Guitares en scène" (St Julien en Genevois) / "Beatles Week International" (Liverpool) / "Festival de Cannes" / Les "Fêtes de Genève" / "Les nuits de Champagne" (Troyes) / "Uriage en voix" ...
Casinos Barrière 2014 (Beatles) & 2015 (U2 & QUEEN) Tour:
Deauville, Montreux, Nice (Rhul), Cannes, Lille, Toulouse, Biarritz, Enghien les Bains, Bordeaux ...
International:
France, China, Djibouti, Bahamas, U.K., Belgium, Qatar, Switzerland, Italia, Austria, Luxemburg ...
Patchwork at home in Beatles territory:
For the "International Beatles Week " in Liverpool, Patchwork gave two concerts at the legendary Cavern Club which given the circumstances were particularly powerful emotionally and symbolically.
At the end of the festival, the group also participated in a grand closing concert which was aired on BBC.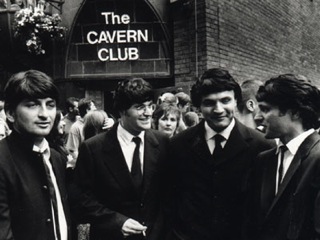 Patchwork at the "International Beatles Week" in Liverpool
(photo credit : Thierry Roche)